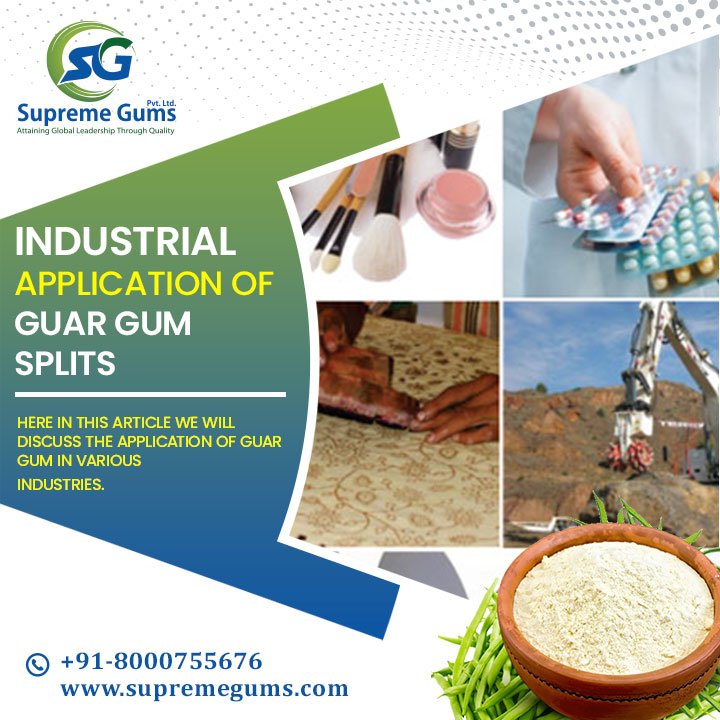 Being the most effective thickening agent this guar gum is used in various industries and in various forms like splits, powder or seeds. From a certain mechanical process these splits are separated from the seeds (i.e) you can get guar gum splits from the guar seed. These guar gum splits are refined through various clarity levels and then get passed for usage. These splits are used by various industries and for an extensive level to get quality results and high benefits. Here in this article we will discuss the application of guar gum in various industries.
Application of Guar Gum Splits in Textile Industry
It is said that the huge sale of guar gum is taken by the textile industry. Being a huge industry the usage of guar gum splits or guar gum products is done on a regular basis. Manufacturer uses high quality guar gum for rayon, silk, wool or cotton sizing. To bring out the best result and to enhance the thickness of dye guar gum plays the role of an important ingredient. Not only this but for printing in various textiles this product is used.
Application of Guar Gum Splits in Food Industry
Usage of guar gum powder is very popular in the food industry. With its versatile properties this guar gum split has been used globally by various food industries. Being a natural thickening agent this guar gum splits or powder is used for frozen and processed food. Not only this the best use of guar gum is taken into baking (i.e) in cake and pastries it is used to enhance the thickness at baking time. The products like mousses, yogurts and desserts need high quality of guar gum split.
Application of Guar Gum Splits in Oil Industry
All over the globe this guar gum splits is also been used in oil well drilling. Guar gum has been used for stimulation, fracturing and for mud drilling also. Basically its been used as a suspending and stabilizer agent in the oil industry. Apart from all this, guar gum splits or guar gum products are also used for thickening, during oil well drilling it controls water loss and reduces the enhanced mobility and friction.
Application of Guar Gum Splits in Pharmaceuticals Industry
The wide use of guar gum splits is in the pharmaceutical industry. For various medicines these guar gum is mixed as it has various utilities like to create a bulking texture in laxatives these guar gum is used. To bring consistency in paste or gel is used. All over the world you will see the usage for the treatments of diabetes, cholesterol and vitamins.
Final Words
The above are the industries who use guar gum splits and guar gum products both. Still there are many experiments going on for the usage of guar gum splits in many more other industries to get best results but there are industries who use guar gum products in their manufacturing like cosmetic industry and printing industry .
Being a leading certified supplier of guar gum in all over the globe we at supreme gums are exporting guar gum products in 45 countries. As we believe in delivering the best quality product. You can find guar gum powder, guar meal (korma), guar meal (churi), guar seed, guar gum split and that of best quality. For more information you can always contact us.