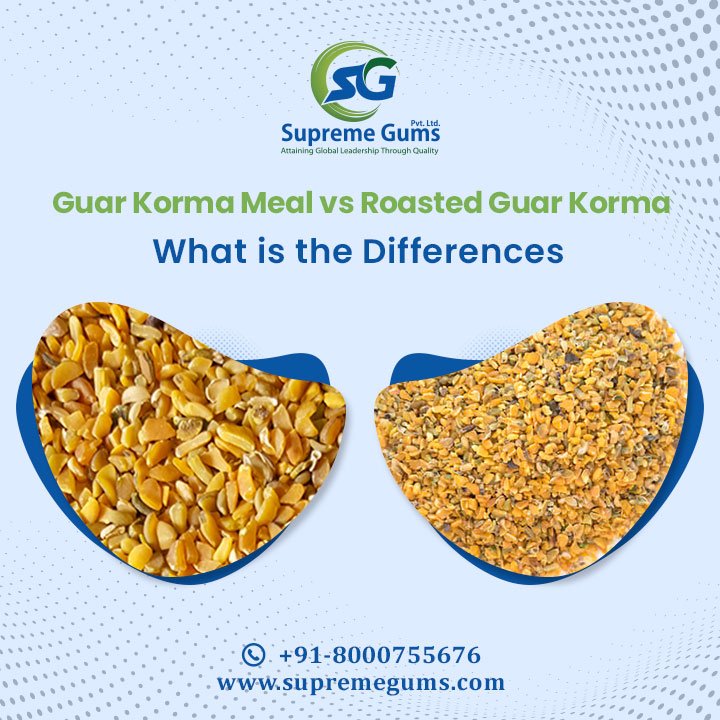 There are lots of confusion in choosing the ideal protein source for livestock because of the availability of too much feed. Roasted and guar korma meal is considered the best protein source for animals like buffaloes. But, selecting the right option for your cattle is important to get a satisfactory result. If you cannot decide between these two feeds(Guar Korma Meal and Roasted Guar Korma), you can carefully review the following section and understand the major differences.
What is Guar Korma Meal?
Guar korma meal is the primary raw material for animal feeding products production. This product is obtained whenever the guar gum extraction is completed from the seeds present in a granular way.
The major purpose of this product is to be accessible for poultry, swine, fish, and cattle. Since it has become a cost-effective and fruitful substitute for animal feeding, it is considered a great alternative to the soya bean meal.
This meal comes with amino acids and high protein content. Due to its high nutritional content, it is recommended for the purpose of milking animals.
What is Roasted Guar Korma?
Roasted guar korma is also an excellent protein source for livestock. It contains the germ part of the guar seeds, which is a certified non-GMO plant. It also has the essential amino acid, protein, and high energy. All these things make it a suitable animal feed supplement. It is also considered the best replacement for Soybean.
It is widely used in aquaculture, cattle, poultry, and swine. It is rich in carbohydrates and proteins, thus offering the best nutrition for the livestock. It does not contain any chemicals or preservatives. It can utilize alone or combined with other feedstuff to prepare a complete nutritional feed.
What is the difference between Guar Korma Meal and Roasted Guar Korma?
Guar korma meal is obtained after the guar gum is extracted using heat from the seeds. It is the major source of carbohydrates and protein with adequate amino acids. Due to this, it is offered for the milking animals and maximizes their milk production. It also makes the milk contain a high percentage of fat. It is then processed to maximize its nutritional value.
Guar korma is roasted to make it more nutritious and palatable. It is named as the roasted guar korma. It is completely free of anti-nutritive elements like antitrypsin inhibitors. These inhibitors limit trypsin formation, which is a vital enzyme for nutrition. Thus, the guar korma is heated at a very high temperature to break the cell walls and maximize the product's amino acids and protein. The presence of the highest protein value and reasonable cost makes it a better replacement for soybean meals.
Now, you will understand the difference between the guar korma meal and the roasted korma. Choose the right one for your cattle or poultry easily.
Leading Supplier of Roasted Guar Korma Meal
Engaging with a reliable roasted guar korma meal supplier is highly important to grab the benefits of this feed completely. They use the latest technologies and techniques to provide the best quality guar gum products. Additionally, they take the seed from the organically grown plant.
It provides the best animal-feed supplement and lets them grab all the nutrients to provide huge milk. Different types of quality guar meals are available at a reasonable rate. So, you can easily talk to the supplier and get the quantity you want within your budget.
Application of Roasted Guar Korma Meal
It is highly useful and beneficial for feeding animals and producing a huge volume of milk.
As it has a higher protein, energy, phosphorous and methionine level, it is widely used for milking animals.
It has a higher fat percentage and energy content that is more useful for feeding animals.
It also contains a higher percentage of crude protein and a lower percentage of digestible fiber.