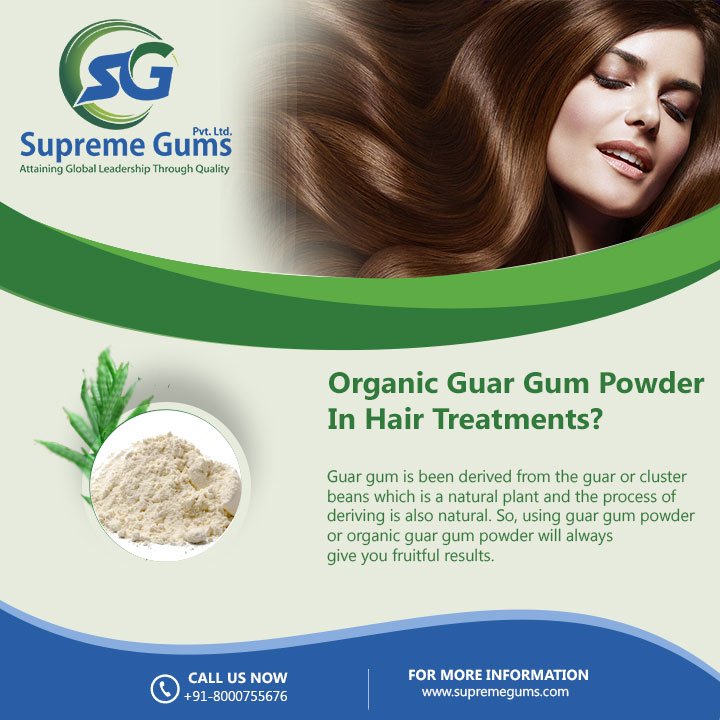 Guar Gum Powder basically gives your hair a natural look. If you will see near your surrounding you will find that many people are switching toward natural and organic products or products which have natural ingredients. This is the reason why in the last few years many companies have come up with new products that include natural ingredients.
Guar gum is been derived from the guar or cluster beans which is a natural plant and the process of deriving is also natural. So, using guar gum powder or organic guar gum powder will always give you fruitful results.
How to Use Guar Gum Powder/Organic Guar Gum Powder in your hairs
If you are willing to use gaur gum powder on your hairs then follow the following steps. So, that you can bring out the best result.
Step 1 :
Take 1 tablespoon of organic guar gum powder, if your hairs are long and ½ tablespoon if your hairs are short.
Step 2 :
Mix this gaur gum powder with water and continuously start stirring it. Make sure there are no lumps in the mixture.
Step 3 :
As you mix the paste now keep that paste aside for one hour. Through this, the guar gum powder will absorb the water and will become thick like a jelly paste.
Step 4 :
Now start applying layer by layer this jelly organic gaur gum paste on your hairs and after applying keep that paste in your hairs for 15 minutes.
Step 5 :
After 15 minutes rinse off the paste with warm water to get shinier, fuller, thicker, and smoother hair.
Things to keep in Mind: While Using Guar Gum Powder
There are no such side effects of guar gum powder as it is a natural ingredient but as said prevention is better than cure so there are some important things that you should keep in mind.
While using guar gum powder make sure you are using it in the right quantity as mentioned before, or else the mixture will become too thick that it will become difficult for you to apply.
If you are planning to use it as a detangler then make sure you add less than 1% of tea water or rose water.
Make sure while mixing water in the powder you are not directly adding the whole spoon together(i.e) in the bowl of water try to drop little powder so that there will be no lumps. You can also use an electric blender to mix the mixture.
To prevent buildup or to remove all the traces of buildup, chemical, or natural make sure you use a clarifying shampoo at least once a month.
The pH value of guar gum powder is high so to decrease that add a few drops of lemon juice or a small pinch of citric acid.
Never try to consume orally as it is not recommended.
Females who are pregnant, people who have an allergy to soybeans, and newborn babies should not use this gaur gum powder.
If you have applied it and feeling irritation on the skin then firstly consult with a doctor. After the consultation, you can apply.
As we know that guar gum powder or organic guar gum powder is made from guar beans. There are numerous benefits of guar gum for hair. So dont think much start applying guar gum powder and get thicker, shinier, and smooth hair. Make sure you use the right amount of powder.
We supreme gums are the leading guar gum supplier also we are focused on giving the right information to our readers. If you wanna know more about gaur gum then always visit@ https://www.supremegums.com/