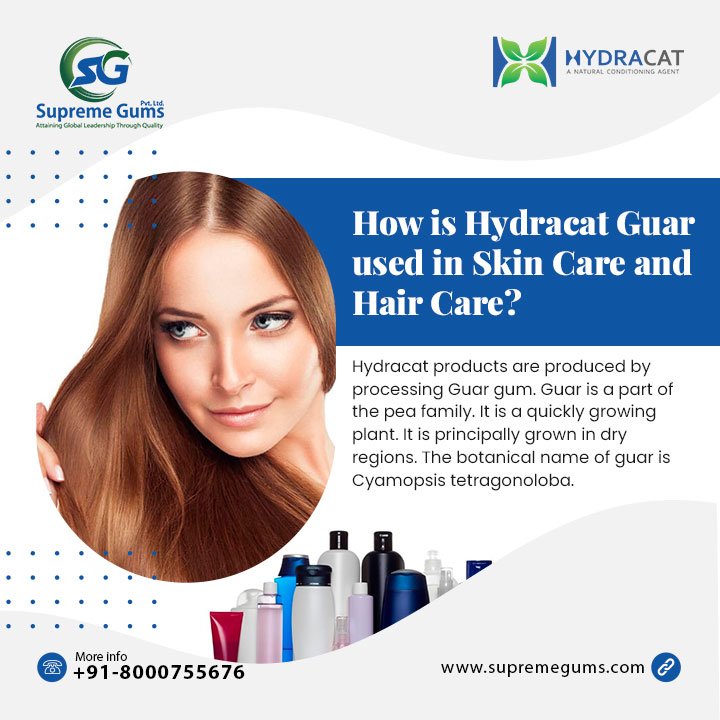 What is Hydracat Guar?
Hydracat products are produced by processing Guar gum. Guar is a part of the pea family. It is a quickly growing plant. It is principally grown in dry regions. The botanical name of guar is Cyamopsis tetragonoloba. It grows in arid regions but frequent rainfall is necessary for its growth. It takes 60-90 days to grow after sowing. About 80% of the world's production of guar occurs in India.
Hydracat guar is becoming more and more prevalent-
The use of guar gum is expanding every day in a countless number of industries. It is suitable for many diverse purposes. The major factor multiplying the growth of the guar market is the increasing application of guar gum due to its multifunctional properties. It is increasingly being used in various manufacturing industries such as food & beverages, textile, cosmetic, pharmaceutical, oil & gas, mining & explosives, paper and many others. Hydracat series of guar products are extremely beneficial for skincare and hair care. Hydracat guar is a synthetic compound with water solubility properties which makes it an ideal ingredient in the cosmetics industry.
Hydracat guar for skin care and hair care-
Properties of hydracat guar which makes it an ideal component in cosmetics industry:
Hydracat guar is easily soluble in water at room temperature. It possesses other features also such as conditioning properties, foam stability, thickening, wet and dry compatibility, salt and alcohol tolerance, smooth texture, transparency, self-hydration, high viscosity, etc. For manufacturers of personal care and beauty related products such as soaps, shampoos, body wash, lotions, lipsticks, shaving creams, toothpaste, hair conditioner and many more, guar is an extensive product.
Advantages of hydracat guar:
Hydracat guar is very beneficial for skin and hair. Most of the personal care and beauty related products contain guar gum. Hydracat for skin care and hydracat for hair care has numerous applications of guar. Hydracat series of guar products is rapidly gaining popularity in the cosmetic sector. It is very natural and organic in its use. It is also very environmental friendly.
Perfect for all skin types:
The main advantage of using hydracat guar in manufacturing cosmetic products is that it can be customized according to the requirements of the customers. Different people have different types of skin. Separate skin type requires separate kinds of nourishment and treatment. A product that may be best for a particular skin type might not suit well to another skin type. On the other hand, hydracat guar being natural in its quality, is suitable for all types of skin. It has no side effects and one can use it without worrying about its after effects. It is suitable for everyday use and is not harmful at all.
Making it the people's choice because of its organic quality:
Millennial and young customers prefer natural and purely organic cosmetic products. These customers are very conscious about the products that they use and the ingredients which have been used in making such products. They tend to avoid excessive use of chemicals. They focus on consuming healthy and environmental friendly products. They demand transparency in the products which they use.
Sensitivity of the skin should not be overlooked:
One cannot comprise when it comes to their skin. Our skin is very fragile and easily susceptible to irritations. For our skin to look radiant and fresh, proper nourishment is very crucial. Using guar has a lot of benefits to the skin. Using toxic and harmful chemical incorporated beauty products tend to damage our skin. These products make the skin aging and dull.
Benefits to skin in particular:
Hydracat for skin care has proved to be a boon in recent times. It helps to cleanse as well as soften our skin. Guar has a very smooth texture which makes its application easy. It also has a moisturizing element which prevents our skin from dryness. So, it is used as an important ingredient in creams and body lotions. Due to its foam enhancement and thickening property, it helps to form lather which makes an ideal component in making soaps, body wash and shaving products. It also helps in making lipsticks and other makeup long-lasting. It is also used as a whitening agent. So, many foundations, fairness creams, cc creams, face powders contain hydracat guar in them. Guar gum also contains a sweet feminine scent. It also has an easily blending property. Moreover, only a small quantity of such products is sufficient to do wonders to the skin, which makes it sustainable and long-running.
Benefits to hair in particular:
Coming to the hair care regimen, hydracat guar is yet again a blessing. Hydracat for hair care has innumerable benefits. The first one being its thickening and rich foam creating property, which makes it perfect for use in making shampoos, hair masks and conditioners. It helps in nourishing the hair. It has conditioning texturizing features. It also contributes to easily detangling and softening the hair.
Damage prevention:
Nowadays, many hair care products contain harmful and toxic chemicals which tend to damage our hair. On the other side, hydracat guar is absolutely natural and does not do any harm to the hairs. To add on, hydracat guar also helps to repair heavily damaged hair and also helps to control hair fall. It also gives a shine to our hair. It is used as a conditioning agent in hair care products. It has a wide variety of applications in hair care. It also improves wet and dry hair combing. Guar enhances the texture and consistency of hair products. Guar consisting products can improve the look and condition of hair and skin as well. It also helps in repairing the damaged cells of skin and hair.
Future prospects of hydracat guar:
Hydracat guar is broadly being used in the cosmetics industry. Its use is rapidly increasing day by day, making it a renowned component in many skin care and hair care products. In the near future, it will gain more recognition. Skin care and hair care has become much easier owing to the goodness of hydracat guar.