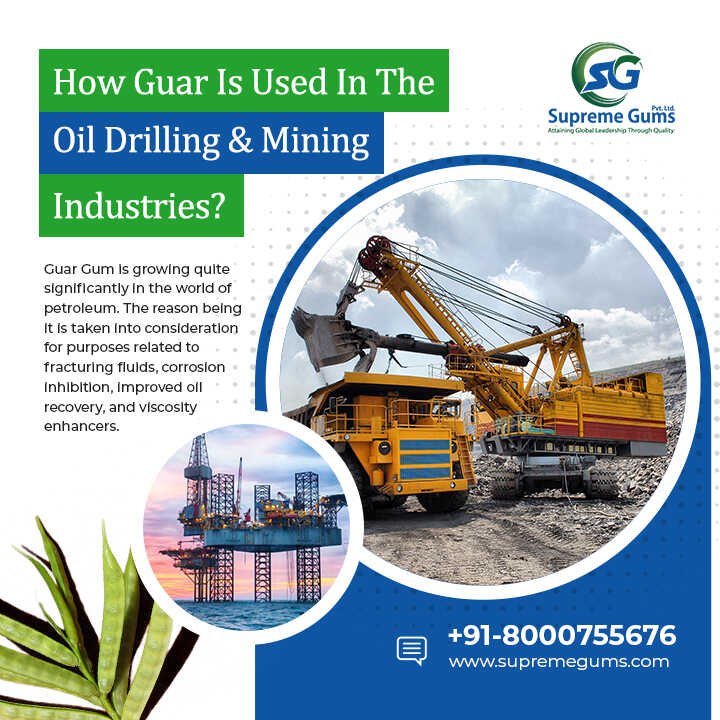 The demand for guar gum is increasing with every passing day. In fact, most industries use it for different purposes. In fact, now it has been seen that the application of guar gum can also make a huge impact in the drilling and mining industries as well. As it comes with the features like effective emulsifying, thickening, and stabilizing, makes this product and its derivatives perfect assets to have for different needs and requirements in the respective industry.
You might acknowledge that the use of guar gum is growing quite significantly in the world of petroleum. The reason being it is taken into consideration for purposes related to fracturing fluids, corrosion inhibition, improved oil recovery, and viscosity enhancers.
How Guar Gum Is Being Used In Mining?
When it comes to Guar Gum, it is being taken into consideration for a wide range of purposes. There are a number of companies now providing this product to different business sectors and their specific needs. It has now caught the attention of the mining and drilling industries as well. If you are thinking about how this will be used in the respective industry, then please read along:
Guar Gum Additives for Oil Well Drilling
When it comes to additives, it plays a big role in the drilling fluids' performance while executing the borewell drilling process. When it comes to the precision and efficiency of the drilling process, it is very much dependent on the different types of additives that are being used during the procedure. So, it is important that you use good and appropriate additives so that they can enhance the drilling procedure for better productivity.
This when you can consider going for guar gum additives. In drilling fluids, it is used in the form of a thickening, stabilizing, and suspending agent. Guar gum plays a big role as a viscosity enhancer and assists in balancing the drilling mud viscosity levels. This will make the entire process smooth and seamless without any issues related to the friction. With the use of guar gums, the process will surely become a lot smoother and efficient.
Guar Gum Uses in Fracturing
The primary objective of the guar gum additives in the process of fluid fracturing is to boost the development of fracture while reducing the formation damage. So, using guar gum additives in fracturing fluids helps in keeping viscosities high that will be needed during the time of oil well fracturing procedure.
The application of guar gum additives in oil well fracturing will surely work wonders and enhance the fracturing liquid ability to ship the proppant. In this way, Guar gum is being used in the Fracturing process and it exclusively makes things a lot more convenient.
Wrapping Up
This shows how important guar gum is in the field of drilling and mining procedures. If you are looking for a reliable name in the business to assist you with guar gum applications then do not hesitate and consider knocking on the doors of Supreme Gums. You will surely have your needs covered to perfection! Get connected now!