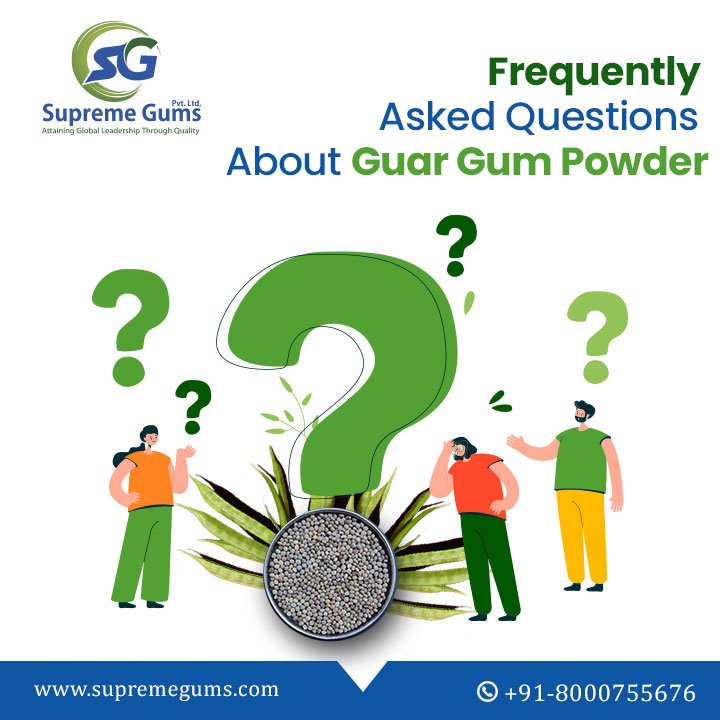 1. What Is Guar Gum?
The Guar Gum Powder is also called as the Galactomannan Polysaccharide which is extracted from Guar Beans. These Guar Gums are agrochemical processed from the endosperm of the cluster bean. The Guar Gum has the amazing thickening as well as stabilizing properties, so they are widely used in food, feed, as well as industrial applications. Normally, the Guar seeds would be mechanically dehusked, milled and screened for suitable application. Guar Gum will be free-flowing and off-white powder, so they have been used for various applications in the pharmaceuticals, paper, textile, food, explosive as well as in the cosmetic industry. Generally, the Guar Gum resembles as locust bean gum so they are composed of complex carbohydrate
polymer of the Mannose and Galactose.
2. How Guar Gum Is Guar Gum Powder Prepared?
Normally, the Guar Bean Seeds will be processed for extracting the Gum in the granule format. Guar Bean Seeds are removed from their husk so they would be sent to grinding devices to obtain gum powder. Guar Gum Powder will be white in color, so they will be transformed into fine granules. Apart from these, the Guar Bean Seeds will be extracted as different by products such as the Emulsifier and starch. Guar Gum Powder also has a high range of viscosity compared to other ingredients that are applied to enhance the thickening. Depending upon the requirement of the end product, the Manufacturing process involves various processing techniques. Commercial production of Guar Gum uses the
Roasting
Differential Attrition
Sieving
Polishing
Food-grade Guar Gum will be manufactured in various stages.
Stage 1: The Guar split is screened to clean so they will be soaked for adding pre-hydrate
Stage 2: Prehydrating stage determines the rate of hydration for the final product
Stage 3: Soaked splits have higher moisture content, and these are passed through flaker
Stage 4: Flaked Guar Split will be dried
Stage 5: Flaked Powder is screened through rotary screens
Stage 6: Oversize particles are reground in separate regrind plant or recycled to main ultra fine.
3. Guar Gum Powder Uses And Properties:
Guar Gum Powder has been widely used for a wide number of applications both in food industries and commercial purposes. These have incredibly beneficial properties such as.
Compatibility with hydrocolloids
Resistance to oil
Easily soluble in hot and cold water
Viscosity control
Better thickener
Stabilizer
Best water binding capacity
Film forming properties
Resistance to grease
Normally, the Guar Gum forms the Hexose Sugar, Galactose, and Mannose bi-products, so they can be easily dissolve in water. These would provide maximum ability to be used in several applications for attaining uniform and high viscosity. It is suitable for attaining the results within the lower concentrations compared to other hydrocolloids. Guar gum is used in a wide range of cosmetics, foods, and pharmaceutical preparations. Guar gum also has water-binding properties and is a suitable additive for products such as salad dressings and sauces.
4. Thing To Consider While Purchasing The Best Quality Guar Gum Powder?
Guar Gum is the most amazing thickener for Enhanced Oil Recovery and many other applications. Guar gum and its derivatives are known for gelled fracturing fluids. These are used as a beater additive for paper as well as the fluid loss control agent. Before choosing the Guar Gum Powder, it is necessary to find the quality of Guar Bean Seeds that are used for the production and manufacturing. Apart from these, Guar Gum Powder has been used for a wide number of purposes, and each manufacturing method varies. Manufacturers would define the
different grades and qualities based on the
Particle size
Viscosity generated with given concentration
The rate at which viscosity develops
5. How Is The Guar Gum Powder Useful In The Paper Manufacturing Industry?
Guar Gum Powder is widely used in Paper manufacturing for getting superior product results. These have the natural ability to modify the fiber surface properties in the dry paper. It would be easier to provide a dense and sleek surface suitable for slating in the printing method. These are conveniently blended and react positively with manufacturing the ingredients and achieving intensified interactions. It automatically improves the retention of smaller particles as well as many other chemicals. Guar Gum Powder is also suitable for paper products that include
Bonding agent for paper
Unparalleled thickening
Gelling properties
Ability to boost 100% tensile strength
Maximum stress material could withstand when stretched or pulled
Improves surface quality and durability